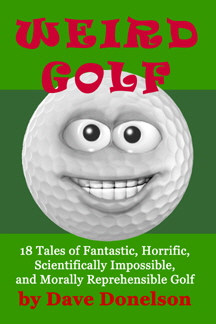 Golf has so much more to offer than hushed fairways and perfectly-trimmed greens. For golfers with open and slightly-twisted minds, there are also blue gnomes that read putts, ghosts with golf tips, and witches you never, ever want to play through.
Tongue firmly in cheek, Dave Donelson tells some of the strangest stories in golf. Like the tale of the grudge match at Pebble Beach between Superman and Batman. You'll meet the golf pro who sold his soul to the devil and the werewolf who makes a run at the Grand Slam. And don't forget the guy who can cure your slice if you'll only let him bite your neck.
Weird Golf will help you push aside your long-drive ego, peel back your putter-shaking id, and expose the goofy golfer deep inside.
Yuri Shoots Par – Learn golf and shoot par in seven days? No problem for Yuri the extra-terrestrial.
Screaming Blue Yips – When an irritable blue gnome reads your putts, you better pay attention.
Grand Slam – Bobby Jones did it, Tiger Woods almost did it, now a werewolf shoots for the moon.
A Rant And Ramble Into The Origins Of Golf – Forget the Scots. If you want to know where golf came from, check the Garden of Eden.
By The Rules – A caddie's view of how the game should be played and what happens to those who break the rules.
Superhero Grudge Match – It's a supercharged slugfest when Batman meets Superman on the first tee at Pebble Beach.
Choker – When you're in the club championship, make sure you don't bite off more than you can chew.
Moon Golf – The stakes are astronomical when the fate of the universe hangs on a golf match on the far side of the moon.
A Not-So-Brief History Of Golf Time – The real reasons golf is played at glacier speed.
The View From The Mountain – A teaching pro with ambition meets the hottest guru in the business.
Night Putting – Twilight golf is not only cheaper, it's deadlier.
Better Ball – When the club two-man title is at stake, be sure to choose your teammate carefully.
Balderwhipple – Double double, toil and trouble, bogeys burn and hazards bubble. Would you dare to play through?
Bald Peter's Pond – A personal injury lawyer learns the hard way to listen to his caddie's advice.
Three Club Wind – Do the numbers and you might discover you don't really need a bag full of clubs.
Ben Hogan's Secret – There's only one way to learn the golf legend's secret, but when you do it's probably too late.
Lost Ball At Hemlock Hills – Every public links golfer dreams of belonging to a fancy-schmanzy private club, although the initiation can kill you.
As Time Goes By – When a golf fanatic enters a time warp, he leaves behind more than a golf widow.
Weird Golf is available in trade paperback and multiple editions from your favorite retailer including Amazon, Barnes & Noble, the iBook store, and Smashwords.com.
ISBN: 9781475122244 Ebook ISBN: 9781476389608