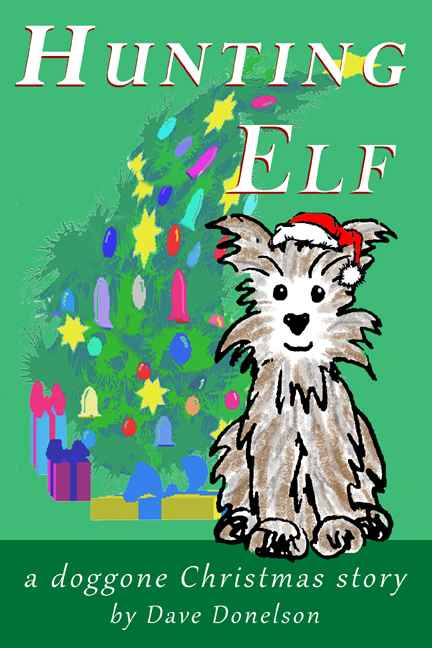 My first novel is set in the world of Elf, a champion-bred Silky Terrier puppy who leads his accidental owners on more than one exciting chase through and around fictional Harrington, NY, a Westchester County suburb of New York City. Along the way, they encounter a set of strange and wacky neighbors, in-laws, outlaws, and dog lovers of various stripes and persuasions. It's a comedic canine adventure.
Hunting Elf was first published as an online audio novel in podcast form. Word spread and thousands of episodes were downloaded by Elf lovers the world over, encouraging me to self-publish the trade paperback edition. The reviews were enthusiastic.
"TRUTH is often stranger than fiction, and that is certainly so when author Dave Donelson tells the story of Elf, a Silky Terrier puppy with uncontrollable wanderlust and a posse of murderous dog fanatics in hot and hilarious pursuit."
--read the full review at K9 Perspective
"Drawing on his life in a house with several champion show dogs - his wife, Nora Guzewicz, breeds and shows Bichon Frises — Mr. Donelson filled the novel with experiences recognizable by anyone who has ever raised a puppy. Elf lifts his leg in all the wrong places, chews on everything from an heirloom Oriental carpet to the CATV cable, and has an uncontrollable urge to dig up and eat delicacies like kitty paté, which gives a whole new meaning to the term 'doggie breath.'"
--read the full review at the Larchmont Gazette
"Hunting Elf has a rollicking movement that pulls you into it and keeps you listening."
--read the full review at Dogster.com
Hunting Elf is now available as a trade paperback, Kindle ebook, other ebook formats from Smashwords.com, and an audiobook from Audible.com.
Lastest edition Published by Donelson SDA, Inc. November, 2010
ISBN: 978-1456315924