Westchester Weddings
August, 2008
Five Glorious Getaways In The Heart Of Africa
by Dave Donelson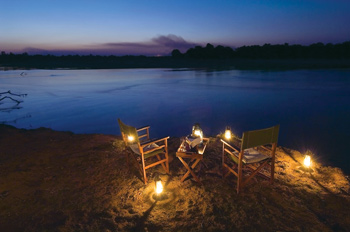 All the elements of a perfect romantic getaway go up several notches on an African honeymoon safari. Candlelit dinner? Try it al fresco with the moon rising over elephants bathing in the river in front of your table and your personal waiter discretely stationed behind just outside the circle of candle glow. Luxury? You can't find accommodations more posh than a two-story teak and canvas chalet with two private decks, Victorian claw foot bath for two drawn by your personal steward, and daily fresh roses, champagne, and complementary massage. Memories? Try walks among the gorillas and lions, shopping in exotic native markets, strolls through friendly grass-hut villages, and evening "sundowners" sipped on a sandbar where you've been taken in a dugout canoe. And if you absolutely have to have a waterfall, try the one that left David ("I presume?") Livingstone breathless.
There is a whole continent full of honeymoon destinations in Africa, including some five-star hotels that match any in Paris or Rome, but I chose some of the wilder options because there's something special about snuggling on 1,000-thread-count sheets while monkeys scamper across your roof and a leopard growls outside your lodge. I also narrowed the choices to two safe countries, Zambia and Uganda, because there are a few places in Africa you just don't want to go right now. Then I excluded the bargain-basement tourist resorts—clambering into an air-conditioned bus to see the giraffes with a dozen traveling grandmas isn't anybody's idea of romance. The result is a mix-and-match itinerary guaranteed to give you honeymoon dreams for a lifetime.
Zambia
The Islands of Siankaba
This riverine wonderland on the Zambezi is the perfect spot to begin or end your safari honeymoon—or a place to stay the entire time. It's located on two untouched islands on the Zambezi River between Victoria Falls (I told you there was a heck of a waterfall) and Chobe National Park.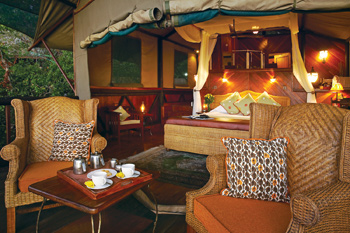 Luxury is the byword at Siankaba. The secluded honeymoon chalet is a two-story teak and canvas affair that sits like a tree house on a platform raised above the island itself. Inside are custom furnishings made from native woods, king-size canopy bed, and bath suite with Victorian fixtures that include a claw-foot tub large enough for two. It has a garden deck, sun lounge, and a private dining area as well as a library and games compendium. You'll also find your chalet equipped with sandalwood amenities, full mini bar, bathrobes & slippers, champagne, roses, bubble baths, and floating candles.
A complimentary private massage is included, too. Tarzan and Jane never had it this good.
As comfy as it is, you won't spend your entire honeymoon in your chalet. At your request, a guide from the lodge will drive you to the town of Livingstone and Victoria Falls, where you can see the sites or get an adrenaline rush bungee jumping, whitewater rafting, river boarding, jet boating, or gorge swinging. Or stay closer to Siankaba and take a guided tour of the tiny thatched-roofed village itself and the nearby school. Visiting the Zambians who live there was the absolute highlight of our first trip to Africa.
At the end of the day, enjoy a sunset cruise on the Zambezi with the other guests (the lodge only accommodates 14 total) or a private outing for just the two of you in a makoro—a dugout canoe—paddled by one of the lodge guides. After "sundowners," the civilized safari version of cocktail hour where you watch the most beautiful sunsets in the world as you sip your libation of choice, you'll go back to the lodge for either an intimate candlelit dinner for two or a social family-style meal with the other guests.
Travel Facts: The Honeymoon suite is $506 per person per night, which includes all meals, drinks, laundry, and most activities. Islands of Siankaba provides personal transportation (45 minutes) to and from Livingstone Airport. For more information, www.siankaba.net or siankaba@zamnet.zm.
Kakuli Bush Camp
This camp at the confluence of the Luwi and Luangwa rivers in South Luangwa National Park looks and feels like an "old time" safari camp where Meryl Streep and Robert Redford might step onto the set at any minute to film a scene for Out of Africa. Norman Carr, who founded Norman Carr Safaris, the operator of the camp, was a legendary big-game hunter before he became an ardent conservationist.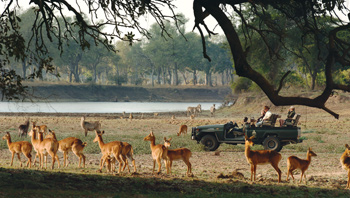 His spirit lives on in the most popular activity at the camp, tracking big game on foot accompanied by expert guides and scouts. There's nothing quite so thrilling as photographing a pair of young lions with nothing between you and them except twenty yards of grass. Zambia is one of the few places where that's allowed—most countries require safari operators to keep guests inside vehicles.
The honeymoon suite at Kakuli is surrounded by evergreen trichelia trees for extra privacy from the other five chalets. It's actually a spacious tent with a deck, attached open air bathroom, and an emperor size bed. There's a huge ancient acacia tree—with seed pods that are favorite snacks for the elephants—shading the tent. The staff greets honeymooners with a special traditional song of congratulation and goes out of their way to arrange surprises like sparkling wine "sundowners" or a romantic bush dinner on the riverbank where hundreds if not thousands of hippos congregate in the moonlight.
Travel Facts: The nightly rate for two is $570 per person inclusive of all meals, drinks, laundry, activities, and airport transfers. Mfwue Airport is about two hours away. For more information, www.normancarrsafaris.com or kapani@normancarrsafaris.com.
Nkwali Camp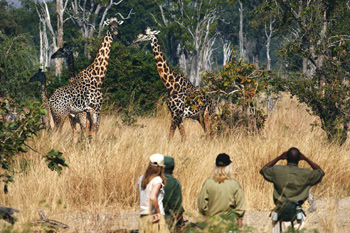 Giraffes may be the most graceful animals on earth. As you watch them amble through the bush looking for tasty leaves high in the acacia trees, it's easy to forget your cares and let their serenity carry you away. Nkwali Camp is directly across the river from South Luangwa National Park, home to the unique Thorneycroft's giraffe.
A typical day at Nkwali begins with a light breakfast served around the campfire, followed by a game walk or drive with a guide and armed ranger among a huge population of elephant, buffalo, lion, impala, bushbuck, eland, and more bird species than you can count. Then you'll take a mid-morning break for tea, coffee, and cake toted along by your porter, perhaps while you watch the hippos cavort in a scenic lagoon. You'll return to camp for lunch, a swim, and a siesta before afternoon tea, then back to the trail for an evening drive to see wildlife you'll only find at night. I'll always remember my first leopard sighting—she had paused to drink from the river under a full moon and was reflected perfectly in the black water.
Nkwali Camp only accommodates 12 guests. The cool, spacious chalets are woven bamboo and thatch and the honeymoon suite is extra large with a sitting room, bath, and king bed. The bar at the camp is built around an enormous ebony tree and the separate dining area overlooks a small lagoon that often attracts elephants and bushbuck. Visits to a nearby village and school can also be arranged.
Travel Facts: The nightly rate is $550 per person inclusive of all meals, drinks, laundry, activities, and airport transfers. Mfuwe Airport is 45 minutes away. For more information, www.robinpopesafaris.net, info@robinpopesafaris.net.
Uganda
Bwindi Gorilla Forest Camp
Honeymooning among the 320 endangered mountain gorillas in Bwindi Impenetrable Forest (a World Heritage Site) is not easy, it's certainly not cheap, but it will provide memories for a lifetime. Looking into the gentle eyes of a gorilla mother nursing her baby is a transcendental experience.
Mountain gorilla treks can take up to six hours and involve strenuous hikes up muddy mountainsides through the rainforest—or a ten minute stroll up the road, depending on where the gorillas decide to spend the day. You go in a small group (six visitors) accompanied by rangers and porters and are allowed to spend an hour with the people-habituated gorillas once the scout guides find them. The permit costs $500 per person per day (it's suggested you book two days since there is no guarantee you'll find the gorillas!), but they sell out months in advance, so make your reservation early. Your fees are what make preservation of the nearly-extinct gorillas possible, which helps ease the blow to your bank account.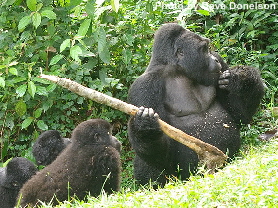 You can also hire a guide to take you through a nearby village to visit a traditional healer who sells a herbal version of Viagra, a woman who makes banana gin (you gotta try it to believe it), and a settlement of the Batwa, commonly known as pygmies, who put on a cheerful exhibition of traditional songs and dances. They're delighted when you join in the fun.
Gorilla Forest Camp makes an excellent base for your experience. The honeymoon cabin (one of only eight on the property) is a secluded permanent tent with a huge attached bathroom and 24-hour valet service. Honeymooners receive special treatment like hot bubble baths strewn with flower petals and surrounded by scented candles waiting for them when they come back from their day tracking gorillas in the mountains. A special honeymoon surprise (don't tell anybody!) is dinner for two cooked on site in a secret location by a dedicated chef and served by a personal butler.
Travel Facts: The nightly rate is $322 per person inclusive of all meals, drinks, and laundry. Guide fees and permits are not included. Kayonza airstrip, served by charter flights, is forty minutes away. For more information, www.sanctuarylodges.com, kenya@sanctuarylodges.com
Ishasha Camp
You know cats climb trees, but did you know there are some lions who actually live in them? One of two places in the world where you can see them is at Ishasha in Queen Elizabeth National Park. Ishasha Camp is the most rustic of the destinations on our list but the sight of those 400-pound felines draped over the spreading branches of a fig tree makes a little "roughing it" completely worthwhile.
Honeymooners (and everyone else) at Ishasha stay in ten East African Meru style tents on the banks of the Ntungwe river. These aren't pup tents, though. Each has a private bath and dressing area, eco-friendly toilet, and hot water "bush" shower, which isn't as primitive as it sounds. Twin beds are standard, but the staff will gladly put two together at your request.
Travel Facts: The nightly rate is $190 per person inclusive of all meals, drinks, and laundry. Guided game drives and community visits can be arranged. Ishasha Airstrip, served by charter flights, is just a few minutes from camp. For more information, www.wildfrontiers.co.ug, info@wildfrontiers.co.ug
Mihingo Lodge
You'll feel on top of the world at Mihingo Lodge, which is perched on a large rocky outcropping with expansive views of Lake Mburo National Park. From this vantage point, sunrise through the morning mists over Lake Kacheera and sunset behind the hills framing Lake Mburo are amazingly spectacular.
The honeymoon suite has the best views of all, as well as a four poster bed built from local olive trees. Like the other nine chalets, it's actually a spacious tent built on a wooden platform with stilts and covered by a thatched roof. The bathroom has a shower built from rock and positioned so you can watch the impalas, zebras, eland, topi, waterbuck, and other wildlife visiting the watering hole at the base of the hill.
The main lodge is a fascinating thatched affair built of rocks, weathered wood found on the land, and native grasses. It's laid out with several intimate seating areas where you can enjoy private moments, a small bar for the dozen or so guests, and an open-air dining room. On a terrace just below, an infinity swimming pool stretches out from the rocks and seems to disappear into the vast landscape.
Travel facts: The nightly rate is $210 per person inclusive of all meals, drinks, and laundry. Guided game drives, walks, and boat trips can be arranged. The lodge is about four hours from Entebbe International Airport. For more information, www.mihingolodge.com, reservations@mihingolodge.com.
A Few Things You Should Know
When to go – Animals congregate near the rivers during dry season, so May to October is peak game-viewing season in Zambia. The rainy season, November to April, has its advantages, too, especially if you want to visit Victoria Falls. Daytime temps at the height of the dry season are around 90.
Gorilla trekking in Uganda is a year-round experience, although there's less rain in December to February and June to August. Note, too, that while Uganda is on the equator, the mountains mean much lower temps than you'd expect. Night times can be downright chilly, with lows of 45 in June.
Prices – Where activity and park fees are not included, they are generally quite inexpensive by our standards, running $5 to $25 for everything from guided game walks to day-long boat trips. Reasonable tips for guides, rangers, porters, and camp staff are expected.
Cuisine – Every place we went offered top-notch meals prepared with an ever-changing array of fresh, seasonal ingredients.
Health – You'll probably need a few shots and you'll definitely want malaria pills. Bottled water is provided everywhere.
Arrangements – While you can make these yourself, it's vastly simpler to work with a travel operator familiar with the destinations. They can package everything from park fees to guides to inter-camp transfers for the itinerary you choose. We use Custom Africa Travel Services (617) 491-1678, a boutique run by Gary Whitehouse, the former travel director for the Harvard Natural History Museum.
--End--