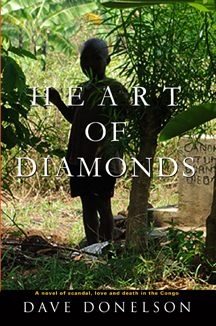 Heart Of Diamonds: A novel of scandal, love, and death in the Congo
International TV correspondent Valerie Grey risks her life—and her love—to expose a diamond smuggling scheme involving a celebrity televangelist, an African dictator, and possibly the White House.
Valerie uncovers the scandal while covering U.S. intervention in the war-torn Congo, where life itself is brutal and the censuring eyes of civilization have long been blinded. She follows a trail that leads hear from New York, Atlanta, and Washington to Kinshasa, Brazzaville, and the remote village of Mai-Munene while the three powerful men ruthlessly try to silence her.
Along the way, she meets dedicated doctor Jamie Talon, who battles his own demons in a struggling clinic in Mai-Munene. Valerie is forced to choose between the selfless physician and her mentor and lover, David Powell.